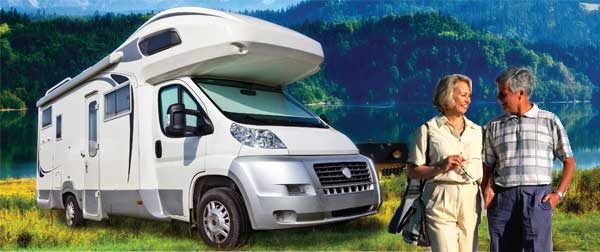 Motorhome Insurance Summary of Cover
Motorhome Insurance Quote >>
Click to Call Free - 0800 3282084
You can choose fully comprehensive or third party fire and theft motorhome insurance. The information set out below details the cover provided by a comprehensive policy. If you require information about TPFT please telephone 0800 3282084 for further details.
This campervan insurance policy provides fully comprehensive insurance for your motorhome, motorcaravan or camper van. It is suitable for people who use their motorhome primarily for holiday and leisure purposes as it excludes business use. Travel to and from your regular place of work may be included if you require commuting.
Awnings, gas bottles and camping equipment up to £3,500
Replacement locks following theft of keys up to £750.
New for Old - Cost of repairs must exceed 60% of manufacturers retail price during first year of registration as new.
Personal Accident up to £5,000 if directly related to an accident involving the insured vehicle.
Alternative accommodation or travel - If you are unable to continue your journey as a result of accidental loss or damage to the insured vehicle - up to £300 for 3 nights accommodation or travel.
Windscreen covered up to £600, in any one period of insurance, subject to £75 excess.
Excess - minimum £100 but varies depending on the value of your motorhome, the figure is clearly stated with your quotation. You may add a voluntary excess for a lower premium if you wish.
Towing a trailer - your liability is covered for towing a caravan, trailer or broken-down vehicle so long as the towing is allowed by law and providing it is properly attached by towing equipment made for this purpose.
Cover is NOT provided for driving other vehicles.
Limited Mileage This is a limited mileage policy which means that you are fully covered up to the limit that you have selected which is shown on your insurance schedule. If you exceed this limit cover is restricted solely to that required by the Road Traffic Acts. You can select a mileage limit up to a maximum of 12,000 miles.
European Cover
The cover applicable to the policy (ie comprehensive or TPFT, depending on which you have selected) is extended to all member countries of the European Union, Andorra, Iceland, Norway and Switzerland for a period not exceeding 180 days in any one Period of Insurance. After 180 days minimum cover only applies in these countries. Although not strictly essential it is wise to carry a Green Card to prove that you have the legally required cover for countries in the EU/EEA. We are therefore issuing a free annual Green Card to all motorhome clients so that you can have the peace of mind knowing that you can take this with you wherever you travel. If you tow a trailer or caravan you can request a Green Card for this as well.
Republic of Ireland
If you live in Northern Ireland your policy is extended for temporary use in the Republic of Ireland without a limit of days. So you can pop over the border whenever you like. See note above regarding Green Cards.
This page offers a very brief highlight of some of the features of insurance cover provided by this policy. A complete summary of cover is available on request.
Insurance Articles
Best Campervan Insurance
-
Travel Insurance
-
Cheap Home Insurance
-
Insurance Fraud
-
Insurance Regulator
-
Insurance Complaints
-
Motor Insurance Data
-
Caravan Towing Law
We are here to help.

Call our Dorset office on:
0800 328 2084
Click to Call Free
Mon - Fri 9am - 6pm
Sat 10am - 12noon
Green Card Insurance You may be asked for a Green Card by the Police, port authorities, or in the event of an accident, in the EU. To ensure that you can prove you have the insurance you need to drive legally we will issue motorhome and campervan insurance clients with a free annual Green Card to take with you if you visit Europe.
MOTORHOME INSURANCE claims number from abroad
+44 1689 898603
Lines are open 24/7