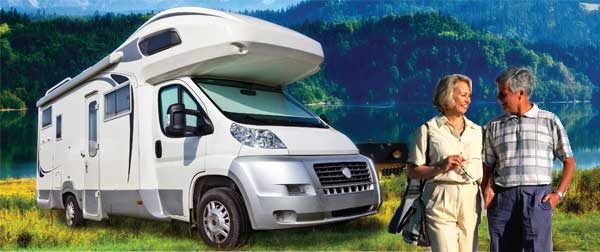 Motorhome Insurance UK
Caravanwise are UK motorhome insurance specialists
Caravanwise we have been arranging motorhome insurance in the UK since 1998. Our Dorset Team are ready to provide you with a quote in just a few minutes. Give us a free call today on 0800 3282084 to see how much you could save on a specialist motorhome insurance policy underwritten by an award winning, leading UK insurer, Highway Insurance Company, part of LV= (LIverpool Victoria). You can also get a quick and easy online insurance quote any time, just click the button.
Instant Motorhome Quote >>
Click to Call Free - 0800 3282084
What types of motorhome cover do you provide?
In common with most motorhome owners you will want to choose a fully comprehensive motorhome insurance policy for your van whether it is a campervan, motorcaravan or motorhome. We can arrange insurance for motorhomes up to £80,000 in value. Over £50,000 must have approved tracking device fitted and in service.
If your motorhome is valued at less than £5,000 we can offer Third Party Fire and Theft insurance. See below for more details about this insurance for lower value motorhomes.
The motorhome insurance policy that we arrange is suitable for UK residents, and who use their motorhome mainly for holiday and leisure purposes as it excludes business use. You are able to add cover for travel to and from your regular place of work. In many cases commuting can be added for no additional cost. For more information on motorhome insurance and what we can offer visit our beginners guide to motorhome insurance.
Motorhome Insurance Cover Options
| Motorhome Cover | Comprehensive | Third Party Fire and Theft |
| --- | --- | --- |
| Liability to other people for injury | ✔ | ✔ |
| Liability for damage to other people's property | ✔ | ✔ |
| Theft of the Motorhome | ✔ | ✔ |
| Damage by Fire | ✔ | ✔ |
| Damage by Attempted Theft | ✔ | ✔ |
| Accessories lost or damaged by Fire | ✔ | ✔ |
| Accessories lost or damaged by theft | ✔ | ✔ |
| In car entertainment equipment loss or damage | ✔ | ✔ |
| Accidental damage to your motorhome | ✔ | ✘ |
| Personal Accident cover | ✔ | ✘ |
| Personal Belongings cover | ✔ | ✘ |
| Windscreen Cover | ✔ | ✘ |
| Replacement Lock cover | ✔ | ✘ |
| Overnight accommodation or travelling expenses | ✔ | ✘ |
| 180 Days EU cover | ✔ | ✔ |
For more complete details of cover, limits and exclusions please see the Motorhome Insurance IPID Download. An easy to understand brief summary of cover. 123K.
Can I add Motorhome Breakdown Insurance?
Yes, you can add breakdown cover to your motorhome insurance policy for just £55. This cover includeds the UK and Europe. This is exceptional value for money as it provides cover for the UK and matches the cover provided by your main insurance policy for Europe (EU and associate nations).
24-hour Helpline Services
Roadside Assistance
Roadside Repairs
Recovery Service
Get-you-to-your-destination Service
Message Relay
Home Breakdown
More details of breakdown insurance cover here: Motorhome Breakdown Cover
What are the main benefits of your Motorhome Insurance Comprehensive policy?
In addition to the usual comprehensive cover which includes risks such as accidental damage fire, theft and liability to third parties, this policy provides a range of motorhome specific insurance benefits which are listed below.
Awning, gas bottles and camping equipment is insured up to £3,500
Alternative accommodation or travel - If as a result of accidental loss or damage to your motorhome you are unable to continue your journey the insurer will pay - up to £300 for 3 nights accommodation or the for the additional cost of travel up to £300.
Towing a trailer - many motorhome owners want to be able to tow a trailer and it is good to know that your liability for towing is covered by this motorhome insurance policy. The liability cover for towing a caravan, trailer or broken down vehicle is included so long as the towing you are doing is allowed by law and providing it is properly attached by equipment manufactured for the towing being done. Caravanwise also offer fully comprehensive caravan insurance.
Motorhome Insurance UK cover is extended to include EU and associate countries for up to 180 days
If your keys are stolen the cost of replacing locks is covered up to £750
Personal Accident benefit of up to £5,000 if the injury is directly related to an accident involving the insured motorhome.
Dedicated 24hr/365 days a year coverage from LV's own UK based claims team.
What are the Motorhome Insurance Significant Exclusions?
Driving other vehicles is excluded
The excess shown on your schedule of insurance
Some Important limits of our Comprehensive Motorhome Insurance Policy
Maximum sum insured £80,000. Vehicles valued over £50,000 must have an active tracker professionally fitted and in operation.
Maximum annual mileage 12,000 miles
Limited Mileage This is a limited mileage insurance policy which means that you are fully covered up to the limit that you have selected that is shown on your insurance schedule. If you exceed this limit then cover becomes restricted solely to that required by the Road Traffic Acts, see here legal minimum insurance. You can select a mileage limit up to a maximum of 12,000 miles.
Third Party, Fire and Theft Insurance
The UK legal minimum insurance for you to drive on UK roads is Third Party insurance.
Third Party Insurance This covers you if you have an accident and/or cause damage or injury to some one's property, to them, an animal or their vehicle. Your liability for that damage or injury to the third party is covered by this policy and all motor insurance policies sold in the UK. In addition the third party fire and theft motorhome policy arranged by Caravanwise insures your vehicle for any damage caused by fire and for loss if your motorhome is stolen. It does not offer any insurance cover for accidental damage to your vehicle or for any of the special motorhome cover provided by a comprehensive motorhome policy. You should think carefully if the savings you will make of the insurance premium are worth it for the reduced cover you will have when compared to a comprehensive policy.
Some Important limits and benefits of Third Party Fire and Theft insurance
Maximum sum insured £5,000
Maximum annual mileage 12,000 miles
Insurance is extended to include EU and associate countries for up to 180 days
Driving other vehicles is excluded
£100 fire and theft excess
Can you arrange insurance for older Motorhomes and Classic Campervans?
Yes, We can arrange cover for older motorhomes. Many motorhome insurance policies stop at 20 years, we are happy to quote and continue to offer renewal on your vehicle, up to 100 years old.
Can you quote for Japanese Import Motorhome Insurance?
Yes, we can arrange campervan insurance for Japanese and many other imported campervans and motorhomes. This includes purpose built vehicles, that come out of the manufacturers factory as a motorhome or campervan, and conversions no matter whether these are completed by professional converters, or DIY campervans self built from scratch or from a kit. So if you have a Mazda Bongo camper, Nissan Elgrand camper, Toyota Hiace camper or for that matter any other Japanese Imported campervan and are looking for a competitive campervan insurance quote give us a call on 0800 3282084 as we don't have them all listed on our on-line quote system. Our quotes for Japanese Imports are exactly the same as for other motorhomes and campervans on exactly the same rates and terms.
You will find that not all motorhome insurance policies are the same. The Caravanwise Insurance policy is provided by Highway, Part of LV= one of the UK's top motor insurance companies with an award winning claims service. It is the only motorhome insurance policy that we arrange. We don't give advice on choice of insurance policy, but will provide you with all of the information you need including the main details of cover and any significant exclusions, then leave the final decision to you. It is important to understand that no advice can be given by Caravanwise as to the suitability of the policy and you are solely responsible for ensuring that the insurance is suitable for your needs. You therefore need to carefully read the policy booklet, schedule of insurance and insurance certificate when you receive them to ensure that you have bought the cover you need. There is a 14 day cooling off period during which you may cancel the policy without giving any reason for doing so. If you use this, cancellation within 14 day, right you will be charged for the period of cover that you use and you will not have the non-refundable fee charged by ourselves returned. The remainder of your premium will be refunded to you in the form os a cheque.
For how long has Caravanwise been offering Motor Caravan Insurance?
Caravanwise first started arranging this type of insurance in 1998. Since that time we have built an enviable reputation for dealing with our motorhome clients in a fair, prompt and extremely professional manner. We have built knowledge about the needs of motorhome owners and campervan DIY converters and self builders in particular. We aim to make dealing with us as easy as possible and work very hard to provide the service that you need at a competitive price.
Are your instant on line insurance Quotations easy to complete?
Yes, the following links take you to pages which summarise what we can and can't do in terms of cover details and important limits. This is intended to save you time when filling in motorhome insurance quote forms. For example our maximum sum insured is £80,000 for comprehensive insurance and £5,000 for third party fire and theft. We are unable to arrange cover if you have not been a UK resident for at least 3 years or have not held a full UK licence for 2 or more years or if you are under 25 years of age or over 80 at inception (when your insurance starts). If you are trapped by one of these issues then you'd just be wasting your time to start filling the quote forms in and we don't want to waste your time. We try and list all of the gotchas before you get a quote.
DIY/Self build campervan Insurance Quotation.
Motorhome Insurance Quote for purpose built and professional conversion motorhomes and campervans.
Campervan Insurance quote
It is really easy to get a price for your insurance by getting an insurance quote online or by telephoning us on 0800 3282084. If you plan to limit your mileage and most motorhome owners do less than 5,000 miles a year then you can make significant savings on your campervan insurance.
Can you arrange DIY Campervan insurance?
Yes, we can arrange cover for your van while you are in the process of converting it subjet to time limits. Once you have a bed fixed in the van it can be insured as a day van. The insurer will expect you to have the vehicle classified correctly on your V5c but if the DVLA do not re-classify it as a motorhome we can still arrange motorhome insurance for it under most circumstances.
How to get your insurance cover?
Once you are happy that the quote you have received is suitable for your needs we can arrange to put you on cover. Just phone us on 0800 3282084 during office hours and we we quickly and efficiently do this for you.
Insurance Articles
Best Campervan Insurance
-
Travel Insurance
-
Cheap Home Insurance
-
Insurance Fraud
-
Insurance Regulator
-
Insurance Complaints
-
Motor Insurance Data
-
Caravan Towing Law
We are here to help.

Call our Dorset office on:
0800 328 2084
Click to Call Free
Mon - Fri 9am - 6pm
Sat 10am - 12noon
Green Card Insurance You may be asked for a Green Card by the Police, port authorities, or in the event of an accident, in the EU. To ensure that you can prove you have the insurance you need to drive legally we will issue motorhome and campervan insurance clients with a free annual Green Card to take with you if you visit Europe.
MOTORHOME INSURANCE claims number from abroad
+44 1689 898603
Lines are open 24/7