DIY Campervan Insurance and DayVan Insurance
Instant Campervan Quote >>
Click to Call Free - 0800 3282084
Call Free - 0800 3282084
---
Dayvan Insurance
We are now able to offer Dayvan Insurance at the same rates as DIY campervan insurance. For more details Click here >> DayVan Insurance
---
DIY campervan insurance and self build campervan insurance
During conversion and once converted all covered under one policy.
We are able to arrange self build campervan insurance for home converted self build motorhomes and campervans at the same rate as professional conversions and purpose built motorhomes. Campervan in conversion insurance - you are even covered for 90 days during conversion. You can select fully comprehensive cover or, for lower value conversions, total sum insured up to £5,000, third party fire and theft cover.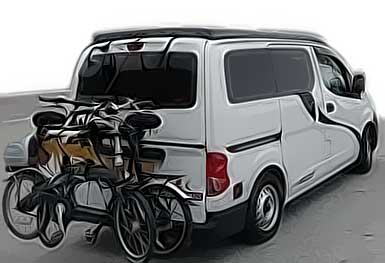 If you need more time to complete your conversion one option is to fit a bed and insure it initially as a dayvan. Call us on 0800 3282084 to discuss your options.
Motorhome insurance, campervan insurance or day van insurance is generally less expensive than van isnurance, this is because campervans tend to be less at risk from rush hour accidents and other risks are generally lower. You can also opt for limiting your mileage below the maximum 12,000 miles for further savings. If you are in the process of conversion or just about to start the campervan insurance we will arrange for you will cover your vehicle during the period of conversion. The underwriter does expect that you are working towards a fully converted motorhome or campervan and that the DVLA will be advised of the modifications you have made. You should be able to self certify that within 90 days you will have completed the conversion to the following standard. See note above about day van option if you need more than 90 days.
A door that provides access to the living accommodation.
A bed, which has an approximate length of 1800mm or 6 feet. This can be converted from seats used for other purposes during the day, but must be permanently fixed within the body of the vehicle.
A water storage tank or container on, or in, the vehicle.
A seating and dining area, permanently attached to the vehicle. The table may be detachable but must have some permanent means of attachment to the vehicle. A loose table would not be acceptable.
A permanently fixed means of storage, a cupboard, locker or wardrobe.
A permanently fixed cooking facility within the vehicle, powered by gas or electricity. * see note below.
At least one window on the side of the living accommodation.
The DVLA also require that it has the external appearance of a "Motor Caravan". New guidance was issued on the required features in order to obtain reclassification on 21st October 2019. DVLA - Converting a vehicle into a motor caravan. This now includes some guidance on "external features which are commonly seen in motor caravans".
The maximum number of seats in the vehicle on this policy is 8. This applies during conversion as well as once finished.
If you are aiming to comply with these requirements and expect to be able to certify that you have or will have advised the DVLA of these modifications within 90 days you can obtain an online quotation here. If you are able to get to the day van stage, ie have a fixed 1.8m bed in your van within this time then please go ahead and get a quote. We aim to be as flexible and helpful to your process as we possibly can be. Please note that there are some other important limits listed below. It will save you time if you check these before going on to our quotation system. If you require a policy for up to 4 drivers or want to discuss your requirements further please telephone us on 0800 3282084 during office hours. We can't give you advice but we can either provide you with the information you need or tell you where you will be able to find it. We will always try to help.
Changing the classification on your V5C
If you are converting a vehicle into a motorhome, campervan of motor caravan the DVLA expect you to send in your V5C with photographic evidence of the conversion. They may require that you take your vehicle to one of their offices for inspection. The reclassification is a legal requirement and not optional.
Once you have completed the conversion, if it doesn't qualify for re-classification as a motorcaravan with the DVLA it may still qualify as a dayvan with us.
Note! We cannot offer commuting cover for dayvans and all of our usual underwriting criteria apply.
NOTE - heating and cooking equipment - This insurance does not cover loss or damage caused by fire or explosion arising from the use of heating or cooking equipment to privately converted motorhomes or campervans, unless fitted or serviced in accordance with the Gas Safety (Installation & use) Regulations and/or manufacturers' instructions by an approved gas safety specialist.
---
Important Limits
It will save you time if you consider these important limits before going forward to get a quote.
Maximum Sum Insured: £80,000 Comprehensive. Vehicles valued over £50,000 must have an active tracker professionally fitted and in operation.
Maximum Sum Insured: £5,000 TPFT.
Maximum Engine size: 4,000cc. If you have owned a motorhome with up to 5,000cc for at least a year Call us on 0800 328 2084 for a quote.
Maximum Vehicle Age: 100 Years
Maximum number of seats: 8
Maximum number of drivers: (on-line quote) 2 including the policy holder, all must be named
Maximum number of drivers: (telephone quote) 4 including the policy holder, phone 01425 280078 during office hours.
Maximum age at inception for any driver named: 80 years of age
Minimum age at inception for any driver named: 25 years of age
The policy is for UK residents only and all named drivers must have been resident in the UK for 3 years prior to today's date and have held a full UK driving licence for at least 2 years.
Limited Mileage This is a limited mileage policy which means that you are fully covered up to the limit that you have selected which is shown on your insurance schedule. If you exceed this limit cover is restricted solely to that required by the Road Traffic Acts. You can select a mileage limit up to a maximum of 12,000 miles.
Please be aware that we do not confirm cover on-line.
Business as usual!

We are here to help you on:
0800 328 2084
Call Free
Mon - Fri 9am - 6pm
Sat 10am - 12noon
Motorhome Insurance
Green Cards You may be asked for a Green Card by the Police, port authorities, or in the event of an accident, in the EU. To ensure that you are driving legally we will issue motorhome and campervan clients with a free annual Green Card to take with you if you visit Europe.
MOTORHOME INSURANCE claims number from abroad
+44 1689 898603
Lines are open 24/7
Relax and let us take care of your insurance.
---
Caravanwise Limited
Insurance Intermediary and Credit Broker
100 Ringwood Road, Walkford, Christchurch, Dorset BH23 5RF
Registered in England No.3560388
Authorised and regulated
by the Financial Conduct Authority.
Our FCA Register number is 304081.
Site contents and design ©2013 Caravanwise Limited All rights reserved
Caravanwise is a registered Trademark.
Site Information