Click Here to Call FREE
Seasonal Pitch Caravan Insurance
As a caravan owner, you might be considering permanently siting your touring caravan on a fixed site or seasonal pitch in the UK. This decision comes with its own set of advantages and disadvantages, and it's essential to understand the implications for your caravan insurance. In this article, we'll delve into the world of Seasonal Pitch Caravan Insurance, covering the pros and cons, key features, and important considerations to help you make an informed decision.
Get a Seasonal Pitch Caravan Insurance Quote »
Advantages and Disadvantages of Siting Your Touring Caravan on a Seasonal Pitch
Before diving into insurance matters, let's discuss some advantages and disadvantages of permanently siting your touring caravan:
Advantages
Convenience and ease of access
Instant holiday experience upon arrival
Familiarity with surrounding attractions and activities
Ideal for hobbies and pastimes
Potentially lower insurance premiums
Disadvantages
Limited holiday location options
Cost of seasonal and annual pitches
Potential for higher pitch fees in desirable locations
Your are not commited to the same site forever and it must be really pleasant to turn up on a Friday evening with everything set up for you, immediately able to relax. Or go for a stroll on your favourite walk and return to the 'van for a nice cup of tea or a glass of wine.
If you can find a nice seasonal pitch in easy travelling distance from your house it could transform your enjoyment of your caravan.
Seasonal Pitch Caravan Insurance: Key Features and Considerations
When opting for Permanently Sited Touring Caravan Insurance or Seasonal Pitch Caravan Insurance, it's impportant fo you to understand the changes in cover provided and requirements compared to standard touring caravan insurance. Many things such as security remain the same the big difference is towing cover is excluded. Here are some key features and considerations to keep in mind:
Sensible Caravan Security Requirements
For single axle touring caravans, a hitch lock and a wheel clamp are required when the caravan is detached from the towing vehicle and left unattended for more than two hours. For higher value caravans and twin axle caravans, additional security measures such as a, tracker, an alarm or another wheel clamp are necessary. Make sure your caravan's security meets these requirements to remain fully covered.
Insurance Coverage
Caravanwise Seasonal Pitch Touring Caravan Insurance includes:
£2,000,000 public liability insurance, which can be increased to £5 million
£20,000 personal accident benefit
Cover for alternative accommodation or the hire of a similar caravan if yours becomes uninhabitable due to loss or damage, up to £50 per day and £1500 in total
Cover for use by family and friends with your permission
Outside furniture in the awning, while the caravan is in use, up to £500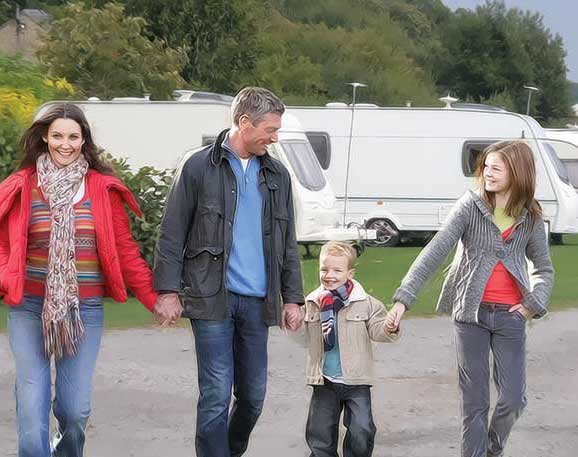 Family and Friends Cover is a very big consideration. You may have people in your family you'd be very happy to lend your caravan to but might have doubts about their towing ability or they may not have a suitable car to tow it. Having a seasonal pitched tourer and family and friends cover means you can now loan it to them confident that they will have a nice relaxing break with no stress of towing. The caravan is set up for them to enjoy, they just need to get there.
Optional cover for full awning insurance, including weather damage, is also available.
It's essential to note the Awning Exclusion: Loss or damage to your awning if it has been left erected while you, your family or friends are not at the Caravan for more than 7 days. Storm damage claims are quite common, so it's important to be aware of this exclusion and take necessary precautions.
Flooding Cover
Flooding cover is included but to qualify for our seasonal pitch caravan insurance you will have to confirm that there is no history of flooding on your site. In order to be fair to all of our customers we need to avoid high flood risk sites and this is probably what you want as well. Insurance will never make you feel that much better if you go to you caravan and it is full of dirty river water.
In recent years flooding events are becoming more common and we will ask you to confirm that your site has no history of flooding. Many seasonal pitches are close to rivers, lakes and low lying areas near to the sea. These places are delightful in the summer but can be less attractive and higher risk during winter months. So how do you check that the lovely pitch you have decided on is free from a history of flooding? Your first step should just be to ask the park owner. Often they will have ensured that caravans are only sited above flood level or may move caravans off the park during the high risk periods from October to March.
If you want to check if the site or a holiday park that you are considering is in a flood risk area in England you can use the Environment Agency's Flood Map system here.
For Scotland SEPA have a similar system here: Scottish Flood Map. Scroll to the bottom of the page and click "View Map".
For Wales the flood map is at: Wales flood risk map
and for Northern Ireland it is here: Northern Ireland flood risk map

Seasonal Pitch Touring Caravan Insurance: Eligibility and Exclusions
To be eligible for Fixed Site Touring Caravan Insurance or Seasonal Pitch Caravan Insurance, your caravan must meet certain security requirements, as mentioned earlier. In addition, the site where your caravan is kept must meet specific criteria. It must be or have:
Locked and secure, designed for storing caravans
Have a secure perimeter and locked gate or barrier
At least 10 caravans on the site
No history of damage by storm, flood, theft, or vandalism, to the best of your knowledge
Be supervised
Bear those factors in mind when you select the park for your seasonal pitch. Most sites easily comply with these requirements but it is best to make your own enquiries.
If you choose a fixed site use policy, coverage will be excluded while your caravan is being towed by any motor vehicle driven by you, your family, relatives or friends. The policy will still cover towing by the site, caravan manufacturers, suppliers, repairers, engineers, site owners, or road vehicle recovery services in connection with their business. So the site is covered to move it from storage to your pitch.
Choosing the Right Caravan Seasonal Pitch Insurance Policy
While our insurance policy offers comprehensive Permanently Sited Touring Caravan Insurance cover, it's essential to ensure that it caters to your specific needs. Here are a few tips to help you make the most of our policy:
Understand our insurance policy and the coverage it provides
Evaluate the risks associated with your specific caravan and its location
Factor in any additional security measures you have in place and ensure they meet our requirements
Verify that our policy meets any requirements set by the caravan site
Consider optional coverage, such as awning insurance, based on your needs
Seasonal Pitch - Could be a great choice
Investing in Caravan Seasonal Pitch Insurance is a smart decision when you've decided to keep your touring caravan on a fixed site or seasonal pitch. By understanding the advantages and disadvantages of this choice, the key features and considerations of insurance policies, and the eligibility requirements and exclusions, you'll be well-equipped to make an informed decision and protect your valuable asset. Happy caravanning!
Seasonal Pitch Caravan Insurance Quote »
Pay for your insurance by Direct Debit - payment options and pricing
If you want our cheapest price you should pay annually but if you would rather spread the cost we can set up a consumer credit account with CCF (BNP Paribas) so that you can pay by monthly Direct Debit. The interest rate is 12.5%. We will ask you to pay a 20% deposit so for example if your premium is £160 you will pay a £32 deposit. 12.5% is then added to the remaining premium. This £144 is collected over a ten month period at £14.40 per month. You will end up having paid £176 for your insurance. In the table is an example based on our minimum premium for touring caravans of £90.
Insurance Premium Example - Paid By Direct Debit
Example premium
£90
Deposit percentage
20%
Deposit amount
£18
Remaining premium
£72
Interest rate
12.5%
Interest added
£9
Total payable
£99
Monthly payment over 10 months
£8.10
The APR is 29.85% which sounds like a lot but what it means in the example above is that you have paid £9 for the credit. Caravanwise Limited is Authorised by the FCA as a credit broker and we will be paid a small commission for setting up your agreement. As you can imagine this is such that it doesn't cover our costs but we offer it as a service to customers to allow you to split the cost of your insurance into smaller chunks.
Other Insurance We Offer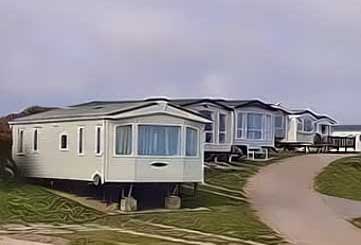 Static Caravan Insurance
We offer comprehensive insurance coverage for your static caravan, including protection against storm, flood, accidental damage, and more.
Static Caravan Insurance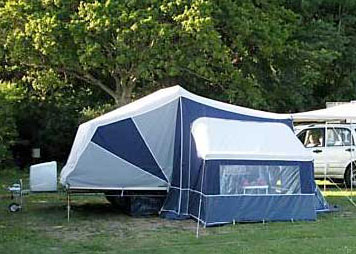 Trailer Tent Insurance
Protect your trailer tent with our caravan policy, covering everything from loss or theft to accidental damage.
Trailer Tent Insurance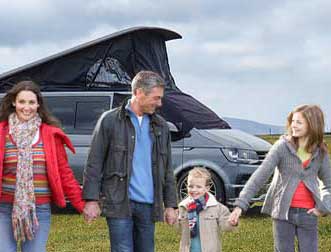 Campervan Insurance
Our campervan insurance policy provides comprehensive protection for your home on wheels, including damage, theft, and liability coverage.
Campervan Insurance
Insurance Articles
Best Campervan Insurance
-
Travel Insurance
-
Cheap Home Insurance
-
Insurance Fraud
-
Insurance Regulator
-
Insurance Complaints
-
Motor Insurance Data
-
Caravan Towing Law
We are here to help.

Call our Dorset office on:
0800 328 2084
Click to Call Free
Mon - Fri 9am - 6pm
Sat 10am - 12noon
Download Insurance IPID for touring caravans, an easy to understand brief summary of cover. 118K.