Click Here to Call FREE
Folding Camper Insurance and Trailer Tent Insurance
Folding Camper insurance and insurance for Folding Caravans and Trailer Tents is arranged under our Touring Caravan Insurance policy. For the purposes of this policy folding campers are covered under the description of "touring caravan".
Folding Camper Insurance Quote >>
Wide Ranging Folding Camper Cover
Cover is provided for touring and storage, all year round.
180 days European cover as standard.
£2,000,000 public liability cover.
£20,000 personal accident benefit.
Loss of Use - cover for alternative accommodation or the hire of a similar caravan. Up to £50 per day, £1500 in total
Cost of recovering your trailer to the nearest competent repairer and delivery back to your storage place, including the cost of repatriation from abroad.
Get your caravan home cover if driver unable to tow due to illness or injury up to £1,000.
Cover for use by family and friends is included.
Standard policy excess just £50 on all claims.
New for old on folding campers up to 10 years old is available at standard premium rates. You must cover it for the current list price of the new replacement.
Few Significant Exclusions
The insurer will not pay a claim in the following circumstances.
While the folding camper is being used as a permanent residence or for any trade, business or profession.
Unless a hitch lock or wheel clamping device is fitted when the trailer is detached and unattended.
Loss caused by wear and tear, deterioration and gradually operating causes including mildew, mould, insect and vermin damage.
Mechanical or electrical breakdown.
Liabilities to third parties arising from the trailer when attached to a vehicle. Note: Check with your car insurer that they provide third party cover for towing a "trailer".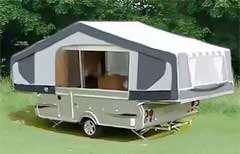 Folding Camper Contents Cover
We can arrange cover under this insurance policy for personal effects, valuables or audio and visual equipment up to £1,000. We do however suggest that you ensure that you have personal possessions away from the home cover on your home contents policy and check with your insurer that personal possessions etc are covered when in a trailer tent. Don't double insure you will only waste money.
Note: Mildew and vermin damage is excluded from cover so please make sure you take steps to avoid these losses by careful drying and preparation for storage.
Folding Camper Insurance
Fixtures and fittings include all of the standard things which come with your folding camper including the battery, gas bottles and security devices. These are covered if included in your sums insured.
Security Requirements
A hitch lock or wheel clamping device must be used whenever the folding camper or trailer tent is detached from the towing vehicle and is unattended. If you store your trailer in a locked garage then you do not need to have a hitch lock of wheel clamp as well as keeping it secured in the garage.
Insurance Articles
Best Campervan Insurance
-
Travel Insurance
-
Cheap Home Insurance
-
Insurance Fraud
-
Insurance Regulator
-
Insurance Complaints
-
Motor Insurance Data
-
Caravan Towing Law
We are here to help.

Call our Dorset office on:
0800 328 2084
Click to Call Free
Mon - Fri 9am - 6pm
Sat 10am - 12noon