Call FREE
Static Caravan Insurance
New for Old - up to 20 years old
This static caravan insurance policy, arranged by Caravanwise can provide coverage on a new for old basis for static caravans up to twenty years old if you select this option and cover the caravan for the full new replacement cost. If you have bought your 'van on finance it is important that you carefully consider new for old insurance cover. Also you need to check your site contract as some sites insist that, if you have to replace your caravan for any reason, you must replace it with a new one. If this is the case you really must buy new for old insurance cover. Also check with them what they will charge for site clearance and resiting and make sure that you have this cost adequately covered.
Static Caravan Insurance Quote »
Flooding
In recent years the main cause of insurance claims for static caravans has been storm and flood damage. Many static caravans are sited close to rivers, lakes and low lying areas near to the sea. These sites are delightful in the summer but can be less attractive and higher risk during winter months. We are particularly careful in our selection of sites on which we can arrange coverage. As a result we are able to keep premiums low but we do have areas in which we cannot quote. We also have set a maximum accumulated sum insured on any one site, and therefore, in some cases we have decided not to take any further caravans on a park that is in a low flood risk area. We do not disclose the reason for our decision to not quote.
If you know your caravan site's postcode & get a quote now
Our quote system starts by asking you the postcode of your site. It then checks against our database and as long as your caravan is not either in an area that we, and the underwriter, have decided to avoid taking on further caravans we can provide you with a quote in just a couple of minutes.
If you want to check if your site or a holiday park that you are considering is in a flood risk area in England or Wales you can use the Environment Agency's Flood Map system here. For Scotland SEPA have a similar system here: Scottish Flood Map. Scroll to the bottom of the page and click "View Map". If you are struggling to identify exactly where your site is situated on a particular section of the flood map and the postcode is in England and Wales, try Multimap's aerial photograph feature.
Northern Ireland
We are now able to arrange static caravan insurance for Northern Ireland.
Frequently asked questions
Business as usual!

We have people in the office and working from
home to help you on:
0800 328 2084
Call Free
Mon - Fri 9am - 6pm
Sat 10am - 12noon
Download the Static Caravan Insurance Product Information Document. An easy to understand brief summary of cover. 118K.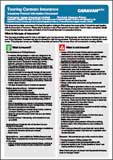 Relax and let us take care of your insurance.
---
Caravanwise Limited
Insurance Intermediary and Credit Broker
100 Ringwood Road, Walkford, Christchurch, Dorset BH23 5RF
Registered in England No.3560388
Authorised and regulated
by the Financial Conduct Authority.
Our FCA Register number is 304081.
Site contents and design ©2013 Caravanwise Limited All rights reserved
Caravanwise is a registered Trademark.
Site Information