Call FREE
Check your nose weight
Some new caravanners are unaware of the need to pack their caravan in such a way that the weight is kept low and mainly over the axle or axles. You need to do everything you can to keep the centre of gravity as low as possible. It is also vitally important that you get the fore and aft balance correct to avoid pitching. The way to measure if you have got this right is to check the nose weight of your caravan when you have got it fully loaded and ready to go.
There's a little more to it than this, which will be explained below, but for now lets look at ways to check the nose weight. The nose weight is measured at the tow ball. The traditional method was to use a set of bathroom scales and a length of wood or broom handle which when placed in the hitch was at the same height as the tow ball. You put one end of the piece of broom handle into the tow hitch and the other end on the scales and wind up the jockey wheel until the full weight is taken by the scales. Obviously you need to make sure that the caravan can't move by leaving the brake on and/or chocking the wheels. Most people don't want to carry a set of bathroom scales around with them and it is important to check nose weight before you start your return journey. Fortunately you can now buy a nose weight gauge that fits between the tow ball and the tow hitch. These are relatively small and light and so can be taken with you easily. Don't forget to remove the gauge and hitch your caravan correctly before you try to move off though. Your caravan insurer will not be very happy to hear if you have to make a claim as a result. Milenco are the only company that we are aware of that make a nose-weight gauge to British Standard BS 7691.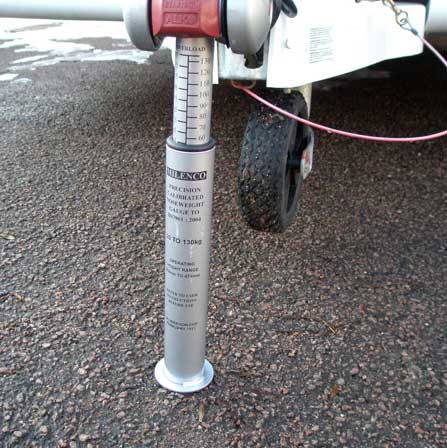 They have gone to considerable lengths to ensure that the accuracy of the gauge is maintained after many usages. Some of the cheaper models become more inaccurate the more that you use them. Milenco also make a nifty cargo bar that allows you to pack heavier articles on the floor of the caravan and not have them moving about as you travel.
How do you know what the correct nose weight is?
The best way to establish this is to look for the figure in your manual. Unless your caravan's manual states otherwise as a rule of thumb you should aim for the nose weight which is 7% of the actual loaded weight of your caravan. The only way to correctly check this is to visit a weigh bridge otherwise you can estimate it by taking the un laden weight and adding the weight of the items you are adding, including your gas bottles.
Can your car and tow bar take that weight?
Your tow bar should have a maximum load on it (either stamped on it or on a plate). This is usually 75kg or 100kg. You also need to check your car's manual to find what the manufacturers maximum is for that make and model of car. If your car's limit is different from your tow bar limit then the lower figure is the one you must use.
Sometimes it is difficult to get the balance just right and have your caravan loaded to meet its requirement while at the same time keeping within the limits of you car and tow bar. You need to develop a strategy to deal with this. It may be that some things that you would like to carry in the front locker have to be strapped somewhere over the axles. Don't be tempted to put heavy items to the rear of the caravan to achieve balance though as this will increase the possibility of snaking. If you are going to move heavier items from the front of the caravan always put them low and over the axle.
Business as usual!

We have people working from home to help you on:
0800 3282084
Call Free
Mon 9am - 6pm
Tues, Wed, Thur 9am - 7:30pm
Fri 9am - 6pm
Sat 10am - 12noon
Relax and let us take care of your insurance.
---
Caravanwise Limited
Insurance Intermediary and Credit Broker
100 Ringwood Road, Walkford, Christchurch, Dorset BH23 5RF
Registered in England No.3560388
Authorised and regulated
by the Financial Conduct Authority.
Our FCA Register number is 304081.
Site contents and design ©2013 Caravanwise Limited All rights reserved
Caravanwise is a registered Trademark.
Site Information