Click Here to Call FREE
Check your caravan's tyres
There are three main issues with regard to tyres on caravans and you need to check them all.
1. Tyre inflation pressure.
2. Tyre wear.
3. Tyre age.
Tyre pressure is one of those things that needs to be checked regularly. Before each significant journey and every few weeks when you have the caravan in storage. Don't necessarily trust the pressure gauge on a garage forecourt. Many of these are thrown about and cannot be relied upon. Get yourself a digital tyre pressure gauge and use that to do the final check. Your caravan manual will show the correct tyre pressure for your caravan. This may vary based on load.
If your tyres become worn below the legal minimum tread depth (1.6mm) you must change them immediately. If they are wearing unevenly investigate the reason. Perhaps a bearing is becoming worn or a brake sticking.
Caravans that do not cover major mileages may have tyres that are too old long before they are showing signs of wearing out. Most expert commentators recommend that tyres are changed when they are five years old and that they should never be used after they are seven years old. This is because they deteriorate with age and are somewhat more likely to fail as they deteriorate.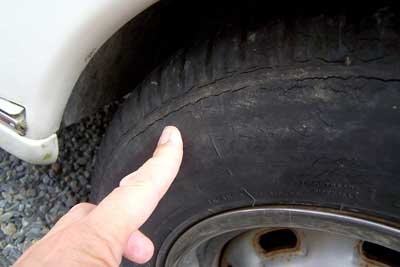 Check your tyres regularly for cuts, bulges and cracking as tyres suffering from this kind of deterioration or damage must be changed immediately. Don't wait until they get as bad as the one shown in the picture. If your tyres are 5 years old you should be planning to change them and if they are over seven years old you must change them immediately. On most caravan insurance policies tyres are not themselves covered for bursting or punctures.
To know when a tyre was manufactured look for a series of characters that begin DOT. Usually at the end of this series is a four digit number. If you have a three digit number the tyre was manufactured before 2000. In the example in the picture below the tyre was manufactured in the second week (02) of 2009 (09).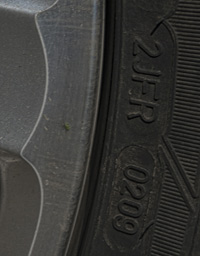 If you are buying a second hand caravan check the tyres before you commit to buy. If they are damaged or so old that you will need to change them use this in your negotiation. You might consider changing the tyres on an older second hand caravan anyway for safety's sake.
Insurance Articles
Best Campervan Insurance
-
Travel Insurance
-
Cheap Home Insurance
-
Insurance Fraud
-
Insurance Regulator
-
Insurance Complaints
-
Motor Insurance Data
-
Caravan Towing Law
We are here to help.

Call our Dorset office on:
0800 328 2084
Click to Call Free
Mon - Fri 9am - 6pm
Sat 10am - 12noon