If you have tried camping and love the lifestyle but hate sleeping on the ground, maybe a trailer tent is just the thing for you. Or maybe you love your tent when you have it up but hat the head scratching and searching around for a vital component. If this is you the answer could be a trailer tent.
Trailer tents are a dream come true for those who fancy the idea of a step up from a frame tent but don't want the step to be a massive one. The great thing about a trailer tent is how the trailer is integral to the accommodation. It keeps everything together, makes erection much easier and can provide a cozy sleeping platform with proper mattresses. Because everything is kept together and essentially there is one way to put it up after a couple of attempts it is much quicker than a standard tent and what you end up with is much better with the trailer forming the centre piece of your space.
The structure of a trailer tent is pretty straightforward – it has a robust trailer base that folds down to form a flat, comfortable sleeping area, and a fabric tent that folds out to form the shelter. This simplicity in design is what makes it so appealing to outdoor enthusiasts who love to travel light but still want to enjoy the basic comforts.
Trailer tent designers have become very adept at building things into the trailer that enhance your enjoyment. Many have a kitchen unit built into the trailer that swings out into the kitchen area of the tent. For example the Isabella Camp-let range include models with a swing out kitchen unit with a two ring cooker, work surface and, drawers and storage cupboards all at a handy height for you to prepare camp dinners with ease.
Some trailer tents also come with additional features that add to the convenience. For example, some models offer optional awnings providing extra space that can be attached to the main tent. These provide an additional sheltered area, or extra space for sleeping or storage. This feature can be particularly useful if you have a larger family or if you're planning on staying in one place for a longer period.
Why You'll Love Trailer Tents
The light and compact design of trailer tents makes them extremely easy to tow and maneuver. This makes them a great option for those who might not have a large vehicle or who are new to towing a trailer. Trailer tents are easily towed by smaller cars and even electric vehicles and the fact that all of your accommodation and sleeping arrangements are towed in the trailer means that your car has more space for all of your family items and luggage. Many trailer tents come with the option of fitting a luggage box on top further releasing space in your car when travelling. Or if you are a cyclist some have bike racks available. Trailer Tent Bike Rack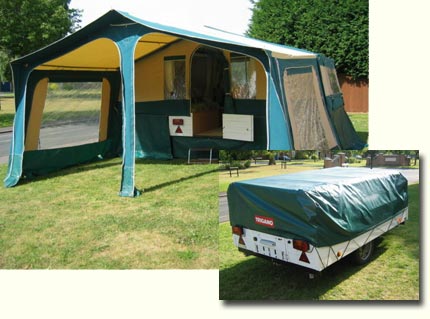 Trigano Trailer Tent
One of the major advantages of trailer tents is the speed and ease of setup and dismantling. Unlike traditional tents, which can take a while to pitch and pack away, trailer tents can be set up and packed away in a matter of minutes. This leaves you with more time to enjoy your camping experience and less time worrying about your accommodation.
Trailer tents also offer enhanced comfort and weather protection compared to traditional tents. The rigid base provides a comfortable sleeping area, and the modern waterproof fabric tent offers protection from the elements.
Finally, trailer tents are generally more affordable than other types of camping trailers, making them a great option for those on a budget. Despite their lower price point, they still offer many of the same benefits as more expensive models, making them a great value for money. The cost of ownership is also lower than a caravan for example. You can store your trailer tent at home, at the side of the house or better still in your garage which will make it more secure and prolong its life. They are lower and more aerodynamic to tow than a touring caravan so are more stable and fuel economy is better than when towing a tourer.
They are cheaper to take on a ferry or the tunnel than a caravan, cheaper pitch fees (generally) and trailer tent insurance is very competitive.
So overall they are a very economical option.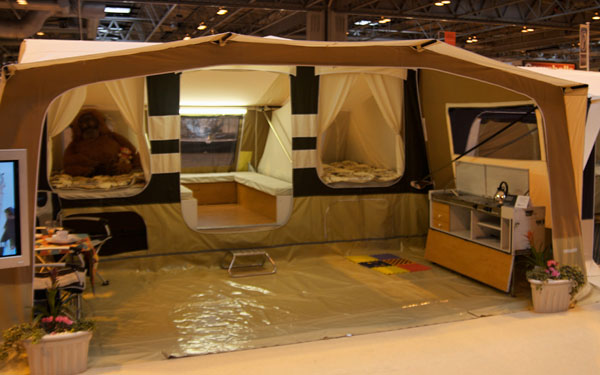 There's a massive amount of usable space in a trailer tent with fixed sleeping compartments and comfortable beds off the ground
Trailer Tent Insurance
Designed to meet the needs of trailer tent owners in the UK. Our policy provides the same cover as for touring caravans, including 180 days EU cover. To get a quotation you can either phone our friendly, experienced Dorset insurance admin team during office hours, on 0800 328 2084 or get an easy online quote any time. You won't be disappointed! Trailer tent insurance details << link.
Few Negatives
Trailer tents need to be looked after but there is very little cost in doing this. One of the main things is if you are forced to take it down when wet you must dry it out at home as soon as you possibly can. Mildew and fungus can ruin an otherwise lovely tent. Protect it from vermin by, once you have it dry keep it closed (or follow the manufacturers recommendations for storage) and don't leave perishable foods in the cupboards as they will attract mice.
Condensation
Condensation in trailer tents is a common issue often mistaken for leaks. The warm, humid air inside the tent, produced by occupants and appliances, comes in contact with the cooler tent fabric, condensing into water droplets. These droplets can collect on the tent's interior surfaces, including its frame, resulting in a damp environment, which can spoil your camping experience. If there's a gust of wind, it can seem like it is raining inside, even when it isn't outside.
To mitigate condensation, ensure good airflow in your trailer tent. Using a waterproof groundsheet can prevent ground moisture from adding to the issue. Avoid cooking inside the tent, or at least make sure you have maximum ventilation in the kitchen area. Keeping wet items outside the tent and pitching away from bodies of water can also help reduce humidity inside. In unavoidable conditions, have a towel handy to wipe away any excess water. Remember ventilation is your friend. The tent might be cooler but you are better off having a thicker quilt and windows open. Managing this will become second nature once you have your routine sorted.
Top Trailer Tent Brands
There are many brands that offer high-quality trailer tents, but some of the most popular ones include:
Manufacturer/Brand & Link
Information
Cabanon
Basic, Eco and Luxury ranges for four different trailer tents. Manga Basic is ideal for a family vacation with 1 pleasant living space under the awning, 2 separate bedrooms with raised beds and integrated box springs and mattresses, and plenty of storage. 4 berth. Compact and comfortable. Manga Eco contains an eco-friendly kitchen unit and the Manga De Lux contains a luxury kitchen unit.
Camp-let
3 models in the range – Dream (17m2), North(18m2) and Passion (18m2). North is ideal for people who like a little extra pampering and holiday comforts. 4 berth. Comes with options to include multi-purpose annexe, extra bedroom, toilet area or extra storage. Unladen weight: 250kg Load capacity: 250kg.
Campmaster
The most compact 2 or 4 berth trailer tent on the market. Ideal for solo motorcycles, trikes or small cars. Campmaster Air 1000LX features the latest inflatable air tent technology, simple to set up and very spacious inside but still ultra lightweight. Great for newbies. Campmaster Air 600LX is similar looking but smaller than the 1000LX so even quicker to pitch. New for 2023 the 600LX Limited Edition which is now available in polyester and includes a front canopy. It is lighter to handle and dries quicker.
Comanche
Been designed and producing trailers for over two decades. Easy to assemble and de-assemble. Suprisingly spacious. Oregon – most modern, versatile and spacious, also available in new colours. Petit – Ideal for 1 or 2 people, a lighter trailer tent which is easy to assemble and maintain. McCamp – 2 berth and as dimensions are so small, can even be towed by a motorbike. Montana Explorer & Evo – No pegs required. Space for 4 people.
Conway
Provides caravan style luxury with sleeping for 4 and new exterior. Warm muted colours, breathable Isavryl material, large windows and numerous openings. Ex. Works weight: 620kg Max gross 750kg Carrying capacity 130kg.
Raclet
Safari GL – easy set up, 2 large bedrooms, large living room, good storage space. Designed for family. Solena 2.1 – Ultrafast setup in one movement and doesn't need pegging. Very compact light weight and easy to manoeuvre. Armarda – Quick setup in 20 mins. 4 berth. Small and lightweight. Panama – Setup takes just 10 mins. 4 berth. Includes a sun canopy, 3 way fridge and kitchen unit making is versatile.
SunnCamp
Been manufacturing over 38 years. Sunncamp Holiday range is comprised of a number of models containing the word 'holiday' followed by a number which represents the awning depth in cm. The range have basic equipment and often thought of as an entry level model with no internal storage or zip in ground sheet, even though entry level, they are still popular. Holiday 240 is the shortest of the range.
Trigano
Odyssee – wide

PVC

windows on the front, everything has been designed to ensure exceptional lighting. Quick and easy to set up. 19m2. Ideal for families and reasonably priced. Complair – removable front walls in 2 parts. 3 anti storm straps. Itinea – boasts a range of luxury features incl. black out bedroom. One step pitching with no pegging. Camptrail – Spacious living area, 3 entrances, clever storage, bedroom access via a compact ladder
In conclusion, trailer tents offer a fantastic blend of convenience, comfort, and affordability, making them a great choice for family holidays at home or abroad. Whether you're a seasoned camper or a novice, a trailer tent could be the perfect solution for your family camping needs.
Other Insurance We Offer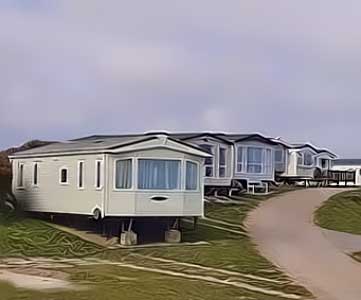 Static Caravan Insurance
We offer comprehensive insurance coverage for your static caravan, including protection against storm, flood, accidental damage, and more.
Static Caravan Insurance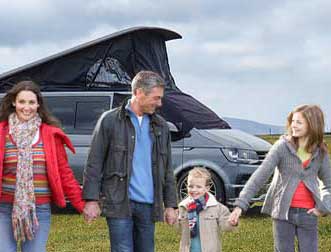 Campervan Insurance
Our campervan insurance policy provides comprehensive protection for your home on wheels, including damage, theft, and liability coverage.
Campervan Insurance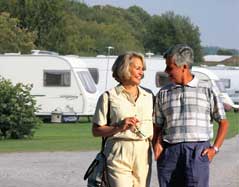 Caravan Insurance
Our campervan insurance policy provides comprehensive protection for your home on wheels, including damage, theft, and liability coverage.
Caravan Insurance