The Toyota Alphard offers a very high spec base vehicle for conversion into a campervan, including air con, electric front and rear windows, automatic gear box and there is even a 4×4 option. Some models come with reversing sensors or even cameras as standard. It has been said that driving an Alphard is like driving a Lexus and the size makes them a great luxury vehicle for every day use.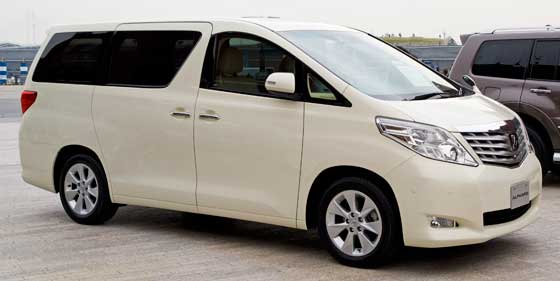 Toyota Alphard 2nd Gen
When converted into a camper van the Toyota Alphard provides seriously good value for money. Although often described as a four berth many will feel this is a couples camper with the possibility of taking the grand kids away for the occasional short break. It makes a really comfortable touring camper to tick off places on your bucket list.
Toyota Alphard Campervan Insurance
Campervan Insurance Quote >>
DIY

Campervan Insurance >>
Alphard Models
The first generation Alphard was produced between 2002 and 2008. Initially the choice was between a 160hp 2.4L and a 3.0L 220hp petrol engine with a 4 speed automatic gearbox. In 2005 the gearbox became a 5 speed auto and a 2.4L hybrid drive was added to the line up.
When you think of Japanese Campervans the first brand you might think of is the Mazda Bongo. The Toyota Alphard camper is for many a step up to a more luxurious and higher quality vehicle that creates what many Alphard owners think is the perfect campervan.
The second generation produced between 2008 and 2015 came with more powerful 2.4L and 3.5L engines and a 7 speed continuously variable gearbox was used on the 2.4L versions. The 3.5L had a 6 speed conventional automatic gearbox.
The current, third generation, model has an updated, and longer, body and comes with 2.5L or 3.5L engines and a 2.5L hybrid. The V6 3.5L 276hp variant has a "super ECT" 6 speed gearbox and the 2.5 variants have CVT drives.
The Toyota Alphard is available in front wheel drive and 4×4 variants.
Toyota Alphard Camper Vans
There are a number of firms offering fully completed Alphard camper vans, mostly using imported 'second user' base vehicles.
Wellhouse Leisure
Wellhouse Leisure has been converting Japanese imported campervans since 2002 and has put a particular focus on quality and safety with gas and electrical installations certified and 3 year warranty provided on all vehicles. Wellhouse are looking to move toward being a fully fledged manufacturer of campervans produced to industry standard specifications and iso9001.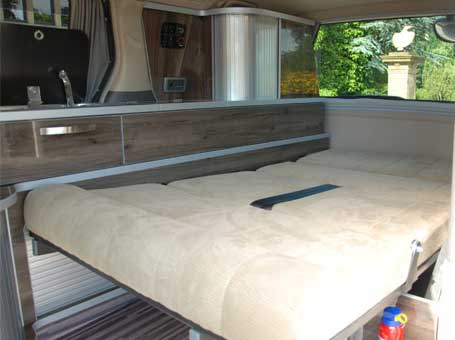 Wellhouse Luxury Interior
Alphard Campers
They produce a full standard conversion with many options available, a weekender campervan conversion or you can specify your own bespoke conversion. They are a family run business based in North Devon that focuses on providing a friendly and professional service. As their website says "Toyota Alphard Campervan is not only reliable and spacious, but is a responsive, easy, everyday dream to drive!". In August 2017 they have unconverted MPVs for around £8,500 and you can have a "Weekender" conversion for an extra £9,000 ie £17,500 in total or a fully converted camper from £21,500. If you want something a bit different they offer a bespoke conversion service.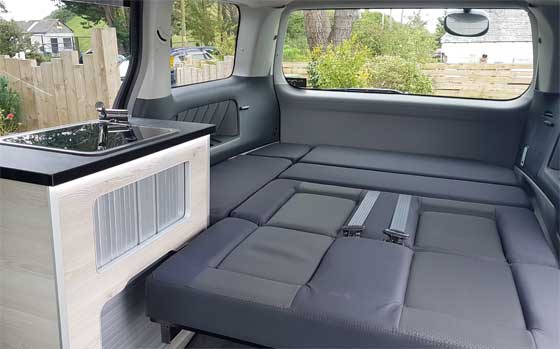 Alphard Campers Weekender Conversion
JAL Imports
Jal Imports, based in Worcestershire, can provide a wide range of Toyota Alphard models at all stages from a standard MPV ready, for you to do your own DIY conversion, they can install various different roof options for you to complete or can deliver a fully converted camper van. They offer verified mileage vehicles with 3 years warranty that are imported direct from Japan.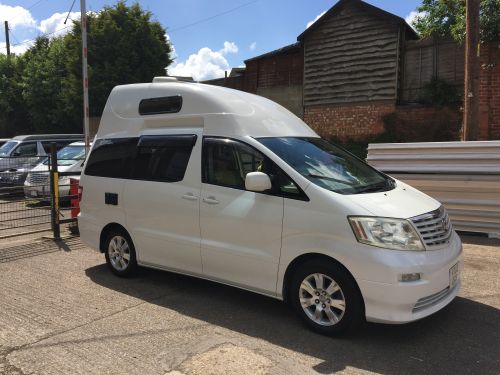 JAL Imports High Top Alphard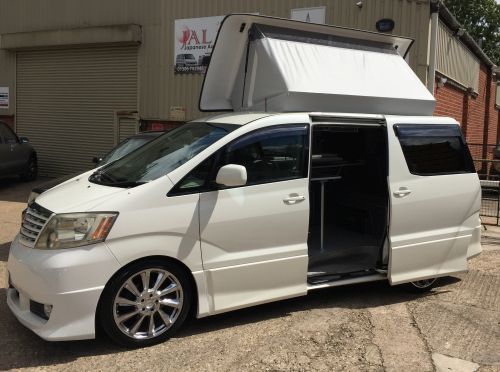 JAL Mushroom Roof
Direct Campers
Direct Campers offer two levels of campervan conversion. The Alphard Carrick and Alphard Carrick plus. Both come with 3 year warranty. They also offer the low emission, very fuel effcient version, Toyota Alphard Hybrid.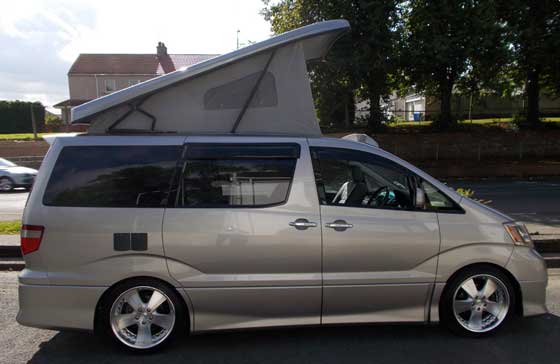 Direct Campers Carrick Plus Conversion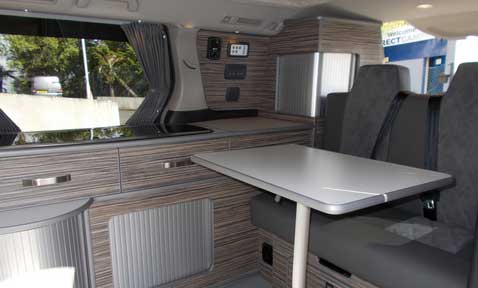 Direct Campers Carrick Plus Interior
Kits and roofs
Pop Top Roofs
Poptop Roofs offer supply only kit or fully fitted front lift pop up roofs for Toyota Alphard. Prices start (August 2017) at £1850 +VAT for supply only. If you don't feel qualified to do the job yourself they will supply and fit for £2650 +VAT. They also have other items specifically for Alphards such as bench seats that make up into beds.
Japanese Camper Insurance
We are delighted to arrange UK campervan insurance for all Japanese Import Campervans. The policy is underwritten by Highway, part of LV. This fully comprehensive limited mileage (TPFT available) policy can cover professional conversions or DIY conversions. Up to 90 days cover can be provided during conversion which means that if you are having a pop up roof fitted first and then fitting an interior kit yourself, you can continue to drive the vehicle to the various places you need to go to complete the stages in your build. These vehicles are excellent daily drivers and you can opt for commuting cover if you want to use it in that way.
Some Japanese and Korean campervans we can arrange cover for include:
Nissan Elgrand Campervan
Mazda Bongo Camper Van Insurance
Toyota Alphard Camper Van
Toyota Granvia Camper Van
Toyota Regius Camper Van
Toyota Hiace Camper Van
Hyundai i800 Camper Van
Self Build Campervan Insurance
Professional Conversions Motorhome Insurance