Looking for a micro tourer that allows you to travel light and offers space for two? Look no further than the Go-Pod Platinum micro tourer. Looking for a small and easy-to-tow caravan that can be hooked up to even the smallest of vehicles? Well, the Go-Pod Platinum micro tourer is exactly what you need! This lightweight caravan is a great option if you want to enjoy the freedom of travel, without the hassle and weight of a larger caravan.
The Go-Pod Platinum offers a great package of features, including a solar panel, TV/DVD, aerial, gas BBQ point, and even an awning, making it perfect for off-grid use. It sleeps up to two people and offers a compact kitchen, wardrobe, and front lounge with a swivel table. The lounge area is comfortable for two people, and the kitchen is well-equipped with good cupboard storage and a small Dometic low-power 12-volt fridge.
Go-Pods are the perfect blend between the fun of camping & the comfort of caravanning – in one compact, contemporary design. Making them the popular camper van alternative.
While the Go-Pod Platinum does not have a washroom, it does come with a manual flush porta loo that can be used in the supplied rear awning. The micro tourer offers excellent storage, including storage under the front seat bases and in the nose seating area, as well as good cupboard storage in the kitchen and a wardrobe with a mirror on its door.
If you're in the market for a micro tourer, the Go-Pod Platinum is definitely worth considering. And don't forget to protect your investment with lightweight caravan insurance.
Price: £18,995 (2023)
Berths: 2
MIRO: 540 kg
Payload: 210 kg
MTPLM: 750 kg
Awning size: included full air beam awning
Website: Go Pods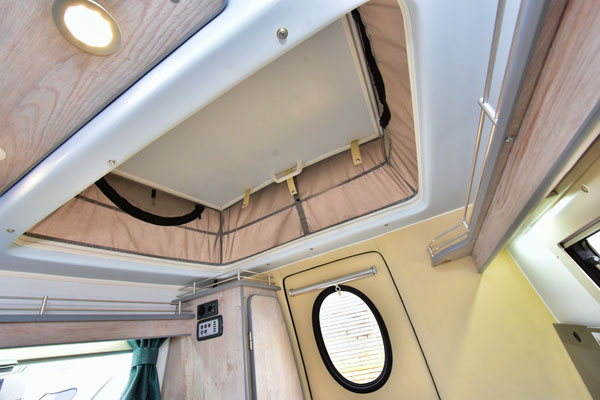 Micro Touring Caravan Revival
The micro tourer has had a revival over the last decade. Around since the early 1920s, micro caravans are designed to enable even the smallest vehicles, including motorcycles and sidecar combinations, to tow a caravan. This market remains niche, but one that has seen recent growth, especially with smaller-engined cars on the market. Now, the problem is that many micro tourers are being imported, which means that if the importer stops trading, parts and backup can be hard to obtain. However, this is where the Go-Pod pop-top micro tourer scores.
Brought into the UK from 2004 by Redlion Caravans and named the Going Cockpit with the conventional Going caravan range, they soon began making inroads in this sector. Made in Portugal by Pluma Caravans, established in 1964, the Going Cockpit became later the Go-Pod. Now, the Go-Pod is available in several specifications, and we reckon the pick of the bunch is the Platinum, tested here. With a spec that includes a solar panel, TV/DVD, aerial, gas BBQ point, and even an awning, sleeping up to two persons, the Go-Pod offers a compact kitchen and wardrobe, plus a front lounge with a swivel table. For 2021, the Go-Pod now has the optional grey wood finish, which adds to a more contemporary interior.
---
If you are considering or own a Go Pod why not let us give you a free
caravan insurance Quote
. You can get an instant online quote her
caravan insurance
quote or call our friendly
Dorset team on 0800 3282084
during office hours. They will give you a competitive quote and you can go on cover instantly.
---
Pitching and Setting Up
Easy to set up, easy to store and highly versatile – Go-Pods are all about convenience and with an extensive range of add-ons available, you can customise Go-Pods to suit your own style of camping.
The Go-Pod couldn't be any easier to set up with its easy-to-handle lightweight. Using Al-Ko running gear, the Go-Pod comes with just two rear corner steadies. The V-shaped profile offers a very aerodynamic appearance and, of course, means the Go-Pod is very economical to tow. Steel wheels are fitted, plus a spare, and what you will find is that two grab handles are fitted at the front only – no rear ones are fitted. In theory, you won't miss them, but maybe two fitted wouldn't go amiss. The low height of the Go-Pod means that a pop-top roof is fitted to stand up in the kitchen area, which is very easy to operate.
The Go-Pod comes with no decals, but you can choose the design you want to make it more personal. The Truma water pump is fitted on the nearside with the waste outlet. The entrance door is at the rear, of course, and is a one-piece glazed unit. There's a mains socket here too, while the mains inlet is on the offside next to the gas BBQ point. A leisure battery is included, but this is stored in the nose of the lounge seating.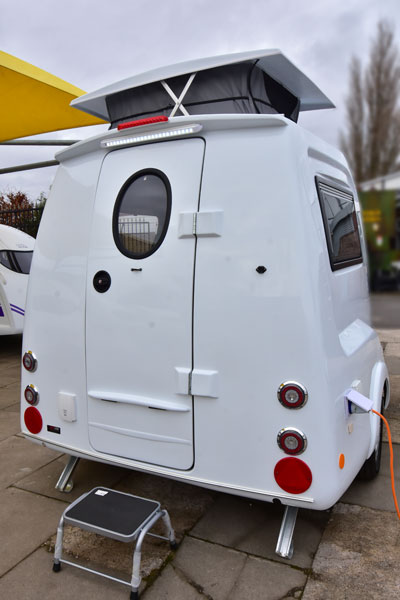 Go Pod has GRP shell so is robust and stylish, front window is sealed so doesn't open, buyers can choose decal design
The original Cockpit version had no gas locker, so gas was stored in the kitchen cupboard. This has now given way to a drawbar-mounted gas locker, which spoils the front looks a little, but it's importantly practical. The Go-Pod has a sealed front window, again a split design on earlier models, but the two side windows do fully open. The body is glass fibre-moulded, cutting down on water ingress. It's well finished and also durable.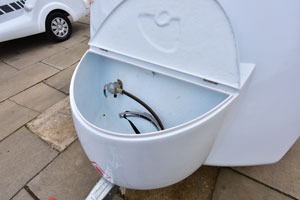 Gas locker takes just one bottle and offers a little bit of storage for small items
Lounge
The Go-Pod is built for two, so the lounge area isn't going to be over spacious. It is, though, comfortable for two people to use. The swivel table comes out when needed, allowing for more foot space. The seating is pretty plain in shape, being more of a slab-like design, but it comes with memory foam, and after sitting on it for a while, it proves to be comfortable. There is a small front window, but we wonder if a larger window stretching to the roofline could be added at some stage. LED corner spotlights are bright and have a good amount of adjustment too. There are twin roof LED lights that also share their light with the lounge, and it also serves the kitchen area for general lighting.
The lounge also has twin blown air outlets at the front, with controls on the seat base next to the kitchen. The unit is a Whale system, which means it's well-proven and efficient. There's a mains socket fitted here, while the leisure battery is placed in the front nose of the lounge, as no side locker is fitted. For the Go-Pod's size, the lounge offers a cosy spot to be and you can stretch out to watch the standard TV.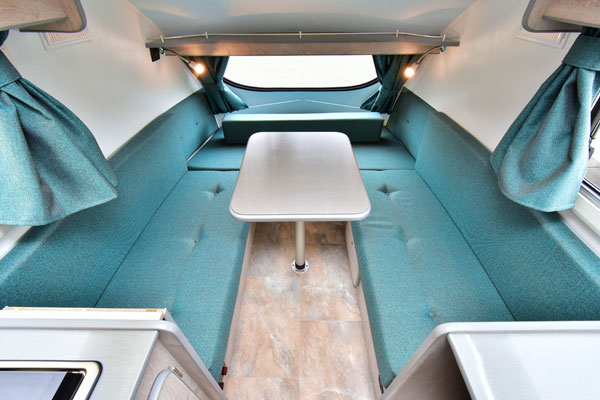 The front lounge is cosy and spacious for the Go Pods size
Kitchen
The Go-Pod offers a side kitchen that really packs a lot in for the size of this micro tourer. You'll also notice the light grey wood grain, which is an option that we think looks better than the normal wood effect. It's possible that this trend will be introduced for the 2022 line-up. The big news now is that the Go-Pod's kitchen has a combined stainless steel sink/two-burner hob, but no drainer, as space is at a premium. Glass tops add work surface, and a fold-up extra worktop is added. The Go-Pod offers a small Dometic low-power 12-volt fridge, which will be ideal for small foodstuffs that need to be kept cool.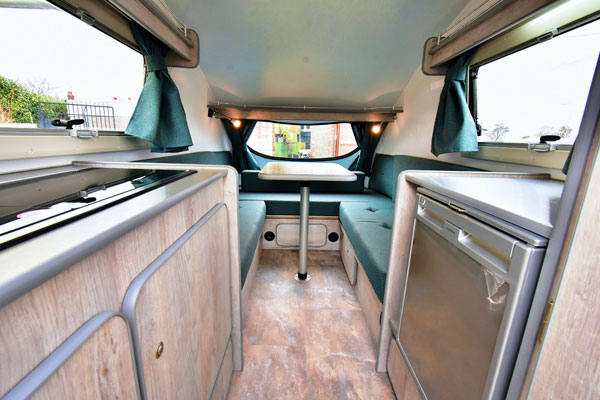 Side kitchen has extending work top flap
There is very good cupboard storage, and in one of these, a mains socket is fitted – this being for the microwave. Above the kitchen is a small shelf that just adds to the storage in this tourer. A side window allows ventilation and comes with a blind/fly screen. Also, an LED light is fitted under the pelmet, giving the kitchen user dedicated night illumination. Of course, no grill is fitted, but a small oven/grill can be ordered as an option. For its size, the kitchen is practical, and the designers have added as much as they can in the space permitted. Standing up in the kitchen and as you enter the Go-Pod means raising the pop-top – this is easy to do just by undoing the straps from their press studs, and it simply pops up!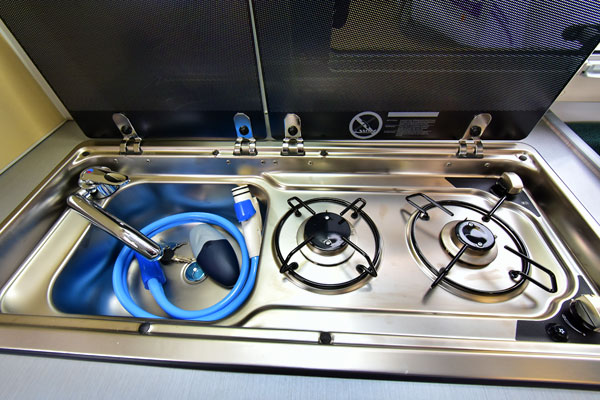 Combined sink and two burner hob
Go Pod Beds
Going to bed in this Go-Pod is easy enough, though if you're making the double bed up, the second person does need to step back! You can make twin single beds, which is an option that most may use instead of the double, done by just taking the backrests off. If you do decide to take the double bed option, then unlike the older Go-Pods where they used to use the table and a wood piece as filler, the new ones use a slatted base which is extremely solid. The cushions then slide into place and make a sizable double 1.95m x 1.57m in size. The cushions are flat, so make a comfy bed.
A good sized bed with memory foam cushions means a good night sleep is on the cards.
Go Pod Washroom
The Go-Pod, of course, doesn't manage a washroom – they can't work miracles! But as a token gesture and an idea used from the early Going Cockpits, the Go-Pod does come with a loo! Yes, a manual flush porta loo which can then be used in the supplied rear awning! So at least a loo is supplied at least.
Storage
This micro-tourer packs a punch in many areas, and storage is one of them. The front seat bases, and also in the nose seating area, offer some excellent storage for bedding, while above the front window, a small but useful shelf is fitted. The kitchen has good cupboard storage but you aren't offered a drawer. There is a shelf above the kitchen as mentioned, and one opposite above the fridge, which also offers extra worktop. The wardrobe also has the control panel and 12-volt/TV aerial socket fitted to its side. The wardrobe has a mirror on its door plus a few shelves, so although cloth hanging is restricted, again, the best has been done with the space provided.
Easy to set up, easy to store and highly versatile – Go-Pods are all about convenience and with an extensive range of add-ons available, you can customise Go-Pods to suit your own style of camping.
Verdict
The Go-Pod offers a micro-tourer that allows off-grid use and also space for two. In this Platinum guise, it comes with plenty of spec, and at the price, offers a good package. Easy to tow and store, and hitch up, the Go-Pod means you can also tow with most small cars too. Ideal for people who want to travel light, the Go-Pod is a must-look. We say this edition offers a great package, including the air awning – it's going to add so much space to your Go-Pod and will be easy to erect too. So, a niche tourer that's built up a following over 15 years in the UK. They sell quickly, so if you're after one, you better get your order in.
Good:
Great spec
Awning included
TV/DVD also included
Decent storage and overall build.
Not so Good:
No separate battery locker
No alloys as standard
No rear grab handles.
Standard Spec list
Spare wheel
Whale heating
Fridge
TV aerial
TV/DVD
Awning

BBQ

point
Mains exterior socket
Solar panel
85 amp battery
Charger
Loo
Microwave

USB

socket
Security bundle
Water container
Check the Go Pod website for current spec list. Website: Go Pods
Measurements
Interior length 2.05 m
Shipping length 4.20 m
Overall width 2.0 m
Front Double bed 1.95m x 1.57m
2 singles 1.95m x 0.53m
© Andrew Jenkinson and Caravanwise Limited 2023