By Andrew Jenkinson
2011 Lunar Ariva
Price: £9,500
MIRO: 886 kgs
MTPLM: 999 kgs
Length: 3.63 m
Width: 2.03 m
Get Insurance Quote: Caravan Insurance
Options to have? A full awning, BBQ point and exterior mains socket
Check for; Damp, floor delamination, service record, tyre age
Manufacturer still in business? Yes – Lunar Caravans
Budget
So you want a pre-owned compact lightweight tourer for just the two of you and your budget is up to 10k top spend? Well if you're also wanting good spec and wanting a tourer that's only a few years old then the Lunar Ariva may be a good buy. This tourer has been around since 1995 and even old versions sell quickly in good condition. Prices vary as you check dealerships but we found a 2011 model for under £10,000. Of course if you are prepared to buy private then you could get a decent Ariva for less cash but of course you don't have any comeback.
Andy's choice
So our choice is a Lunar Ariva a lightweight end kitchen layout, in fact a layout that was once classed as the standard one for two users. The Ariva is also owned by older couples who don't have the grand kids and also usually are quite careful and make sure the caravan is serviced and looked after. The Ariva's narrower width and compact length means in most cases it can be stored on most peoples driveways too. Of course you don't need a hefty tow car either another plus for the Ariva buyer. Its 886 kgs MIRO is light for a tourer even of this type, so does it mean it's basic?
The Background
The Ariva has always had decent kit for its price and class; of course as you choose a newer model it often comes with more spec and better more modern equipment. The Ariva for 2011 came with a full oven and a duel fuel hob too. Hot water and shower and blown air heating plus a microwave and fridge, it also has a Status TV aerial and a Radio/CD player.
Lounge
Front lounge has two single settees and a central chest of drawers which also makes into a double bed. Overhead lockers are deep and night lighting is extremely well taken care of with corner spots and ceiling lights. Seating is comfortable but do check for support it often tells you how often the van has been used.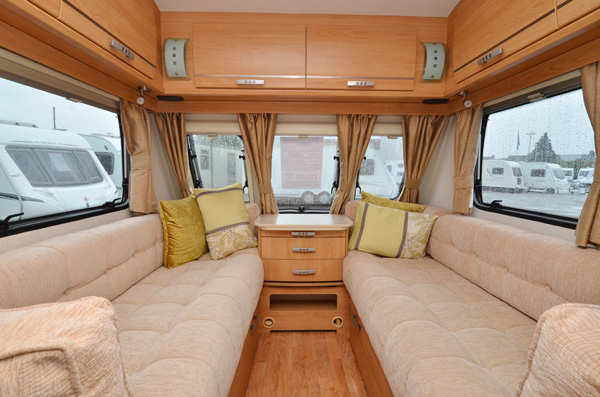 Kitchen
This is a small kitchen area and worktop is limited, but it's well specified as already mentioned. Worktop is helped out by the side dresser which also houses the fridge allowing good storage in the kitchen area. Mains socket and stainless steel sink are fitted and a small rear window. For its size it's perfectly practical.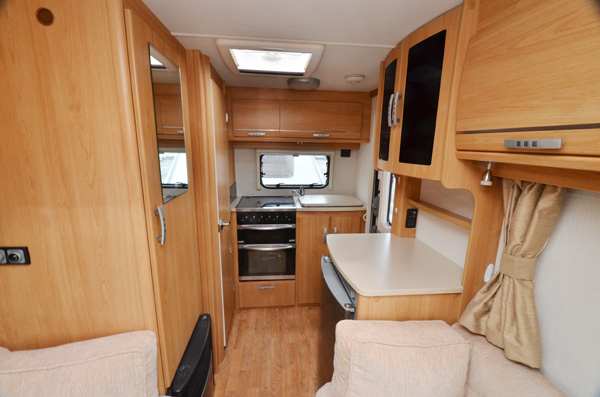 Washroom
It's a small offside washroom but one that packs in a punch, with swivel electric flush loo and a shower plus a hand basin. Also a side window is fitted to so adding light and ventilation. Storage here can't be faulted for such a compact washroom.
Anything else
The Ariva has a decent amount of storage too, with a good sized wardrobe and overhead locker storage. The Ariva is a classy tourer for two with a rather smart drinks cabinet with smoked Perspex doors. Okay its compact dimensions mean you won't be able to do ballroom dancing but the Ariva is spacious for its size. One of our top choices used lightweight 2 berths the Ariva is a firm favourite new or pre-owned.