This is the first of a series of articles about the NC500 by Campervan. Today we start in Inverness and travel North towards John 0'Groats.
The North Coast 500 is a 516 mile road trip, assuming you don't detour to visit other places along the way, starting in Inverness. It fairly closely follows the coastline of the Highlands of Scotland and can be done in either direction. Some say that there are better views going anti-clockwise but the decision is yours.
For this blog post we are going to go anti-clockwise starting in Inverness and going along the north east coast towards John o'Groats. The author has done the route several times on a touring motorcycle but not by campervan. He lived in the Highlands for 5 years and was farm sales agent for the Highlands and Islands and was a regular user of many of the roads featured. The campervan specific information is gleaned from other blogs and websites.
In order to do the route justice, at a leisurely pace you need to give yourself a good week. Add to this the time you'll need getting up to Inverness and back home. You can rush getting there and back or meander through some lovely countryside on the way. If you do head straight for Inverness you'll want to come back and give Perthshire and the Cairngorms more time for another trip.
The intention of this piece is to tell you about some of the things to see and do on your way around. It isn't exhaustive but we'll provide links to other sites where you can learn more. It really is worthwhile planning and itinerary rather than driving along and hoping you'll see things.
Inverness
Inverness is a lovely city with a wide range of bars and restaurants to enjoy. If you like impromptu traditional music give the Hootananny bar a visit. The music seems to get started about 9pm and avoid sitting at the big table in the middle of the room as you'll have to move when musicians start to appear.
In case you need it there's a 24 hour hospital with an A&E unit in Inverness. Raigmore Hospital IV2 3UJ 01463 704000
Campervan sites and things to see close to Inverness
If you stay at the Nairn Camping and Caravan Club site before going to Inverness you can visit Fort George and the Culloden Battlefield before you start your tour proper.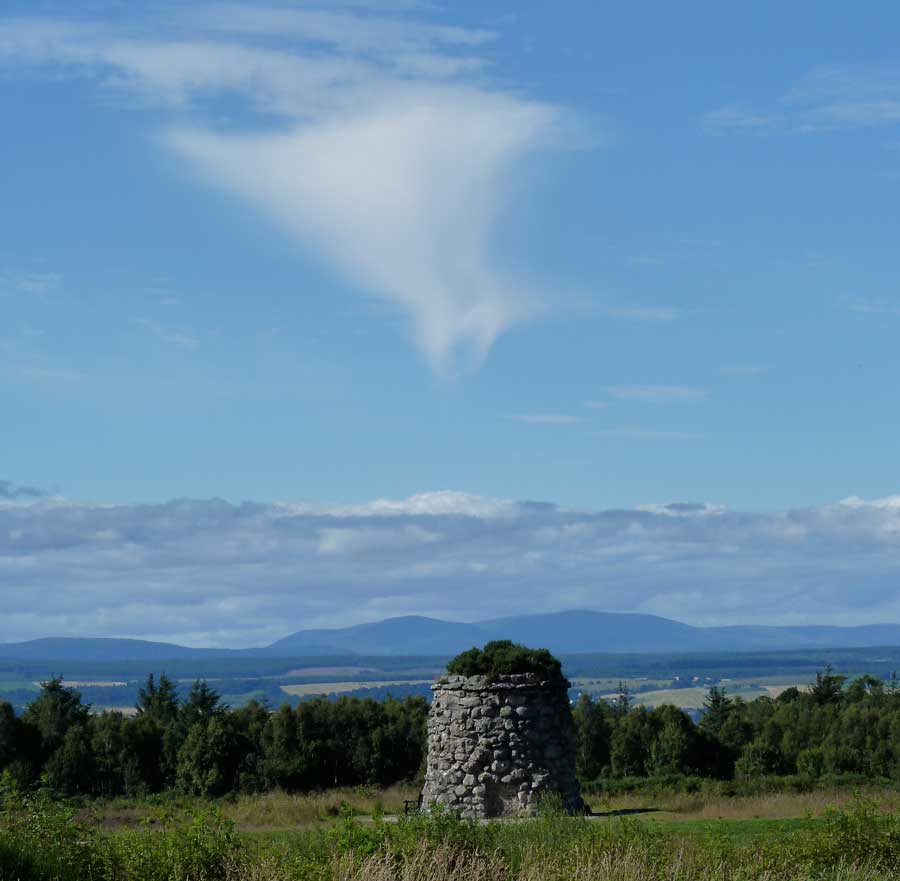 Culloden Battlefield
Nairn Camping and Caravan Club site
Kessock Caravan Park, Drumsmittal Farm, North Kessock, Inverness IV1 3XF 07796 662256 A small site for up to 5 campervans. This is just over the Kessock Bridge north of Inverness.
The Bunchrew Caravan Park is just 3 miles outside Inverness on the Beauly Firth.
Bunchrew Caravan Park
There are two lovely camp sites about 16 miles from Inverness that have something special near by. Fortrose Bay Campsite and Rosemarkie Camping and Caravan Club site.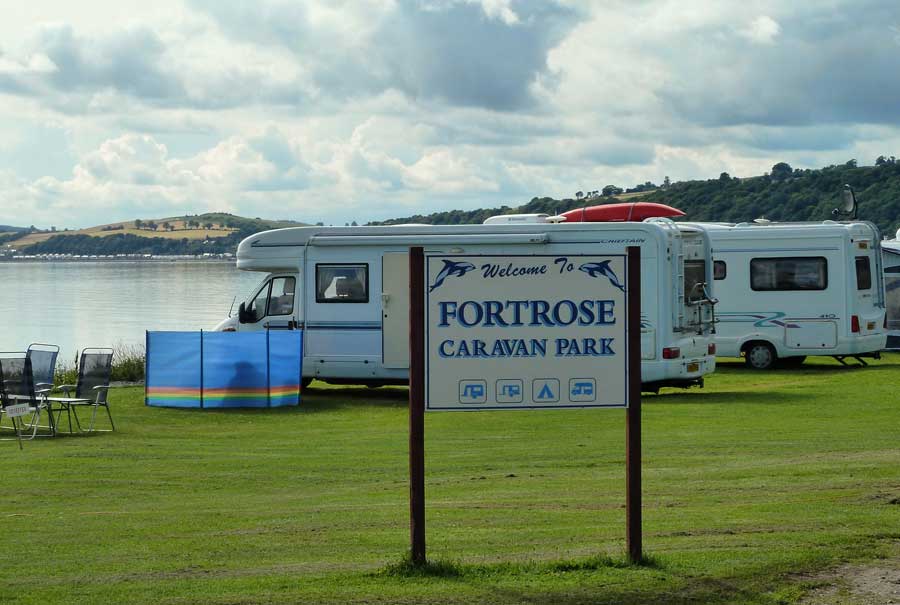 Fortrose Bay Campsite
Rosemarkie Camping and Caravan Club site
From both of these you can saunter along to Chanonry Point and at the right state of the tide see Dolphins playing in the sea close to the shore. They come in to feed on Salmon that rest in the lea of the point and once they have eaten their fill they often provide a show for the people watching from the shore. If you want to get closer to the Dolphins you can take a trip on an Ecoventures boat from Cromarty that goes out to find them.
If you want to walk a little further there is the beautiful Fairy Glen and water falls walk from the north end of Rosemarkie. It is only a couple of miles round trip but nice for a walk in the evening. This is an RSPB Nature Reserve.
Fairy Glen and water falls walk
Or visit the ruins of Fortrose Cathedral
---
Caravanwise campervan insurance information and quotes.
---
Easter Ross and north into Sutherland
North of Tain just before you cross the Dornoch Firth is a nice site. If you take the suggested side route below and want to use this campsite you'll need to backtrack four miles.
If you leave the A9 just after Evanton onto the B9176 (good 2 lane road) after about 13 miles there is a layby on your right and you can enjoy a fantastic view of the Dornoch Firth. Carrying on this road there is a very sharp turn where it joins the A836 if you want to go back to the A9 north of Tain or you can join the A836 and go to Bonar Bridge. From Bonar Bridge you take the A949 back to the A9 near Clashmore.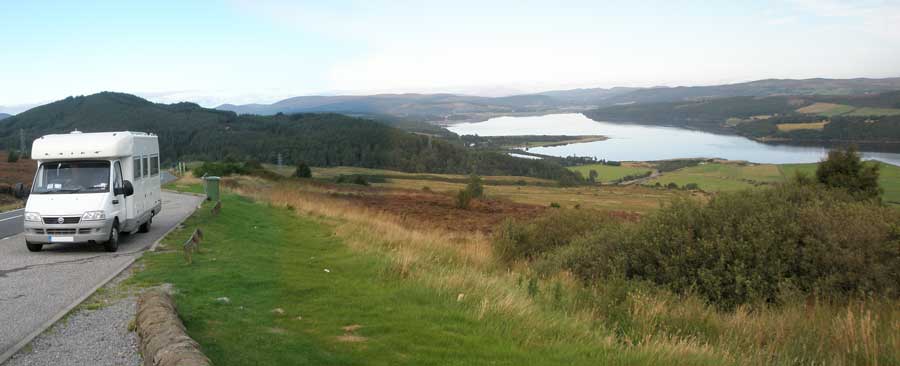 Dornoch Firth Viewpoint
From there you can pop into Dornoch which is a lovely village. The beach has a good, free last time I visited, car park and is a nice place for a lunch stop.
Also a nice campsite close to the village.
Dornoch Caravans
Golspie has a fish and chip shop and there's a car park by the beach with picnic tables. Not sure about overnight parking though.
Visit Dunrobin Castle, ancestral home of the Dukes of Sutherland. Open from 1st April to 31st October. 2022 adults £13.50, seniors £11.50, children £8.50 please check prices on website.
Two miles along the A9, close to the road is Carn Liath broch. This defensive structure and settlement dates from the Iron Age.
Carn Liath broch
If you are a member of the Caravan and Motorhome Club there's a site at Dalchalm north of Brora. looks like a nice site behind the sand dunes with access to the beach.
Dalchalm C&M site
Distilleries
Please check the websites to see if booking is required to join a trip around the visitor centres.
Clynelish Distillery near Brora
The last place you'll come to in this bit of Sutherland, or is it the first in Caithness is Helmsdale. Helmsdale is a nice fishing village with shops and restaurants. The car park by the harbour is/was a donation request place for overnight parking. The proceeds go to RNLI. Could make a good stop over.
Caithness
There are a few historical sites and little coves worth a visit on the east coast of Caithness. I'm just going to list a few here, you'll spot signs for others as you drive north.
Berriedale Braes viewpoint is worth a stop and you can walk down to the cove or visit. There's the site of a 14th medieval century castle at Berriedale if you are interested in that kind of thing.
Dunbeath Castle and gardens is 14 miles north of Helmsdale just off the A9. The castle is a private residence but you can arrange to visit the gardens by appointment.
You can book a hard standing at Inver Caravan park Dunbeath. There's fresh water, a waste dump, free WiFi and you can hook up if you need power.
The Latheron Wheel harbour car park allows (at the time of writing) overnight parking of motorhomes with a honesty box for donations to the local community. Looks a nice place to stop with the sound of waves on the shingle beach to aid your sleep. The road down is single track.
https://www.caithnessandsutherland.com/latheronwheel/
The Clan Gunn Heritage Centre and Museum is housed in the old Parish Church, Latheron.
Lybster Harbour is another spot where you can park overnight. Again a donation is welcome and it is nice if you can use local shops and cafes. Again the road down is a narrow single track and fairly steep.
Lybster Harbour car park
Wick
There's a hospital in Wick with a 24 hour A&E unit. KW1 5NS 01955 605050
There's a big Tesco on the outskirts of Wick if you need supplies. North Rd, Wick KW1 4QS Also you can fill up on fuel here that tends to be a bit cheaper than local stations.
Wick River Camp site. This site is a 10 minute walk from the centre of Wick with its selection of restaurants, shops, cafes, bars and takeaways.
Free overnight parking for two campervans at Castle Of Old Wick Car Park. This is a secluded car park at end of a single track road to south east of Wick. Overlooking the sea. 30 minutes walk from town so only really suitable if you want a quiet spot to stop.
There are harbourside car parks that may be OK to stop over in but you'll need to chack when you get there.
8 miles inland at the end of Loch Watten there's a lovely free car park overlooking the loch. Picture from Google Street View. The postcode KW1 5UH will get you somewhere near.
There's a car park at Noss Head. Its a bit of a barren spot in poor weather but a nice flat free park. Views of the sea and Noss Head lighthouse. KW1 4QT continue past where the postcode takes you. There's a nice walk down from here to Castle Sinclair Girnigoe
Sinclair Bay Camper & Caravan Park Up KW1 4UY Turn up and pay. Includes water and electricity hook up.
Check out Google street view to see if this place is for you.
John o'Groats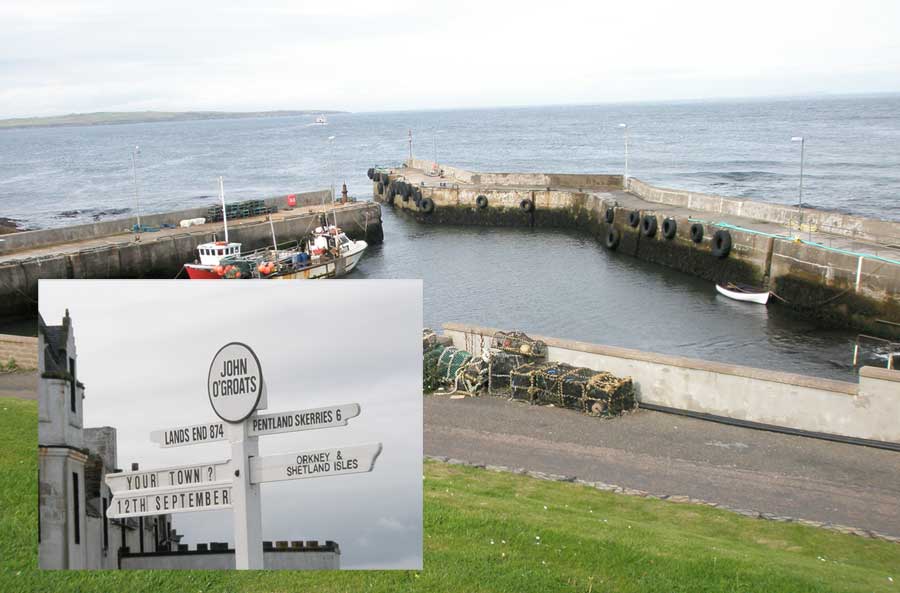 Not the most northerly and not the most easterly but this is the place that people think of as the most north easterly. There's not a lot here but John o'Groatsit is one place you mustn't miss on your NC500 campervan trip.
There's a car park at Duncansby Head that is 2 miles east of John o'Groats along a narrow single track road. KW1 4YS There are some amazing views of cliffs and stacks near here. We don't think there is anything to stop you parking up here overnight but many say it is better to stay at the Camping and Caravans site in John o'Groats.
John o'Groats Caravan and Camping Site is near to the "centre" of John o'Groats such as it is.